Hi, I'm Simon Smith. I help parents and teachers share God's story with movies.
I'm a father, a teacher, a writer, and the author of the Sharing God's Story with Movies series. (Disney's Frozen and Finding Nemo; Wreck-it Ralph coming soon!)
I'm not a critic. I'm a teacher. I love God, I love movies, and I love when the two interact. When they do, I call them Reel Parables and then use them to share God's story!
My Content
I've used movies to share God's story for years. First with my own kids, then at Church and AWANA, and now in our Boy Scout troop. I've even shared God's story with movies while teaching in Cuba, India, Mexico, the Philippines, and Uganda.
I now want to share God's story with you and show you how you can share God's story with your kids.
Much like Jesus often did, I use stories, in my case movies (Reel Parables), to teach the Bible and to share God's story. While others use specific scenes as teaching or sermon illustrations, I typically use the whole movie – the whole story – to teach God's story.
I typically post new content a few times a week. Also, I occasionally share content I think you may find interesting.
Reel Parables is more than just movie-based Bible studies, think of Reel Parables as a different kind of Christian movie review. You can find out more here.
My Purpose
My purpose for Reel Parables is to share God's story with movies. Specifically, it is my desire to:
Educate and Encourage believers through God's story.
Engage the world with God's story.
Equip the Church to do the same.
I don't intend to give you moralistic movie reviews or recommendations. I use both Plugged In and Movieguide when I want that type of information. Instead, it is my sincerest prayer that Reel Parables will encourage you in your own personal story with Christ and equip you to share that story with others.
My Story
I have a BA in Pastoral Theology from Southeastern Bible College (94) and an MBA from the University of Phoenix (05). I have worked for a Fortune 20 company since 1997, spending most of that time as a training developer and/or a corporate trainer. Before that, I worked at a local computer and software training company. As you can see, I love teaching.
During this time in the corporate world, I have also been a part-time youth pastor, a part-time singles pastor, and an AWANA Cubbies director.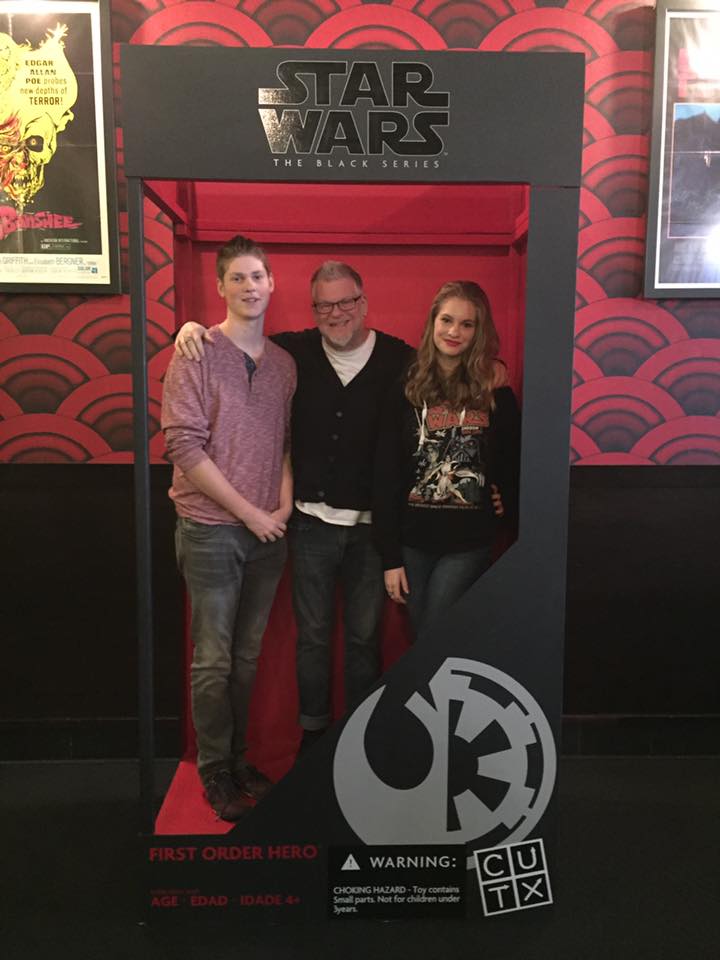 My Family
My wife, Ericka, and I married in 1990 while still poor Bible college students and I wouldn't go back and change a thing. During this adventure, we've had five kids, lost one to brain cancer, and still consider each other our best friend. We currently live in a suburb North of Dallas, Texas, where we have homeschooled all of our children.
In my free time (What's that?), I enjoy movies (duh!), concerts, reading, Scouts with my youngest son, binge-watching shows with my youngest daughter, and camping with my family. I am a member of Trinity Bible Church in Richardson, Texas, where I occasionally teach in my Sunday School class. I also teach the 7th and 8th-grade boys & girls in AWANA at Arapaho Road Baptist Church.
My Contact Info
You can easily find me on e-mail, Facebook, Twitter, Pinterest, and Instagram.
The Legal Stuff
This my personal blog. The opinions that I express here do not necessarily represent anyone or anything to which I am associated. The information I provide is on an as-is basis. I make no representations as to accuracy, completeness, currentness, suitability, or validity of any information on this blog and will not be liable for any errors, omissions, or delays in this information or any losses, injuries, or damages arising from its use.
Disclosure of material connections: Some of the links in these posts are "affiliate links." This means if you click on the link and purchase the item, I will receive an affiliate commission. Regardless, I only recommend products or services I use personally and believe will add value to my readers. I am disclosing this in accordance with the Federal Trade Commission's 16 CFR, Part 255: "Guides Concerning the Use of Endorsements and Testimonials in Advertising."