This is part of Emptied & Humbled, a movie based Lenten devotional. The whole devotional can be found here.
Lent is about identity. What we choose and what we sacrifice says a lot about who we really are. So, who are you?
Finding Nemo has a rebellious son and a scared, but loving, father.
It also has Dory.
Dory is easily a fan favorite. She is funny, she is sweet, and she is sympathetic. We just like her. But she is also a pretty good picture of the Holy Spirit.
But I tell you the truth, it is to your advantage that I am going away. For if I do not go away, the Advocate will not come to you, but if I go, I will send him to you. (John 16:7)
This translation uses the word Advocate, yours may say Helper or even Counselor.
In Greek, the work is παράκλητος or Paraclete in English. A Paraclete is someone who "comes alongside." Think someone who comes alongside of you to help you, hence the translator that chose Helper.
This idea – this visual – fits nicely with what Jesus says in Matthew 11.
Come to me, all you who are weary and burdened, and I will give you rest. Take my yoke on you and learn from me, because I am gentle and humble in heart, and you will find rest for your souls. For my yoke is easy to bear, and my load is not hard to carry." (Matthew 11:28-30)
Notice that those in the yoke are side-by-side. They come alongside each other to make the load or burden less.
One does not carry the load. They do it together.
Marlin did not have to find Nemo on his own. He, too, had a Paraclete. He had someone come alongside him to help him Marlin had Dory.
Sure, she is comic relief, but she is also very much Marlin's helper.
It is because of her that he ultimately find Nemo.
Dory is Marlin's Helper. Dory is Marlin's Paraclete.
Marlin had Dory. We have the Holy Spirit.
So what does this have to do with identity?
But it is God who establishes us together with you in Christ and who anointed us, who also sealed us and gave us the Spirit in our hearts as a down payment. (2 Corinthians 1:21-22)
We are God's because of Jesus. God the Father gives us the down payment of the Holy Spirit to show us that it is true. We may not yet be with God forever, but God is already with us.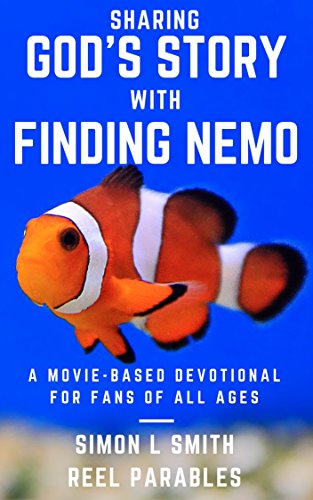 Did you know I wrote a whole devotional based on Finding Nemo? You can check out Sharing God's Story with Finding Nemo over at Amazon.
This is part of Emptied & Humbled, a movie based Lenten devotional. The whole devotional can be found here.
Get my free e-book, How to See God's Story in Movies. This free download will help you share God's story with your kids and students by showing you how to see God's story in movies.
Not only will this guarantee that you get the latest Reel Parables posts, but you will also get my most popular downloads, including "How to Time Travel."
And be sure to check out my About page for more info on what I do around here at Reel Parables.
Until next time, God bless.
Simon L Smith