I love Tim Burton movies. Not only is he one of my favorite directions, but some of his movies are high up on my list of favorite movies. While I don't care for horror or slasher films, but I do enjoy a good dark Gothic tale. And Tim Burton's Corpse Bride is one of those movies!
Spoilers Ahead!
The following discussion assumes that you have already seen Tim Burton's Corpse Bride, do not plan to see it but want to discuss it what friends and family who have, or simply don't care if the movie is "spoiled." Consider yourself warned.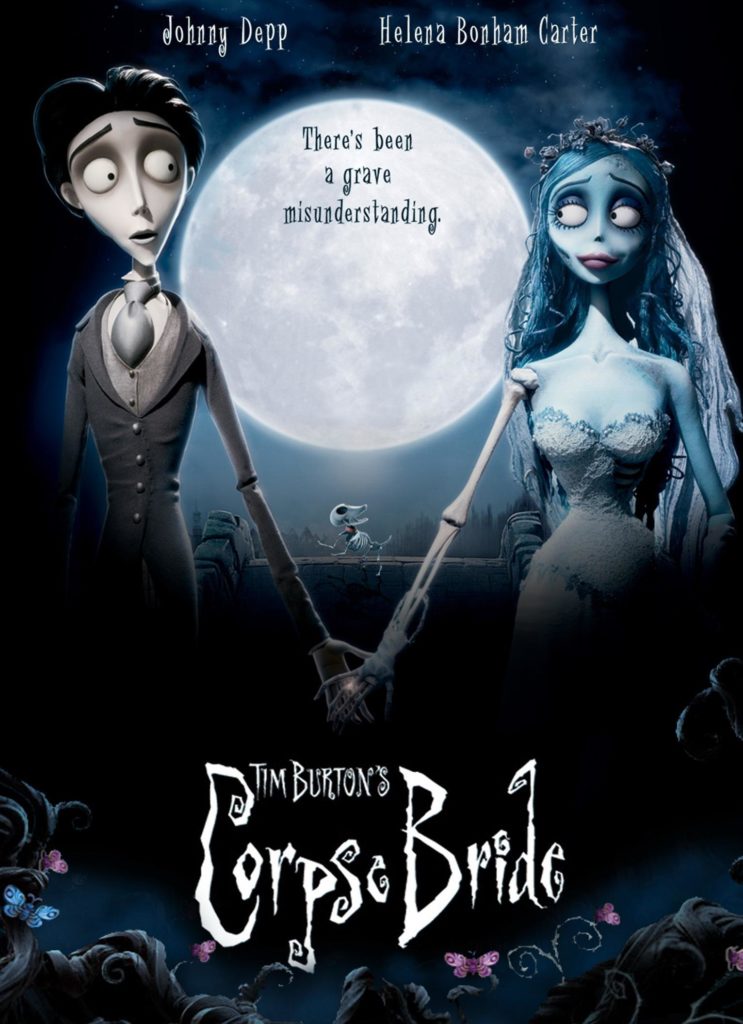 Although Corpse Bride is not my favorite Tim Burton movie, it is worth a watching!
Simply put Tim Burton's Corpse Bride is about a Gothic love triangle. The Corpse Bride (Helena Bonham Carter – Voice) loves Victor Van Dort (Johnny Depp – Voice).Victor, however, loves Victoria Everglot (Emily Watson – Voice), who loves him back. The hitch is that Victor, though a small misunderstanding, marries the Corpse Bride. What plays out is a stunningly subtle love story extolling the importance of sacrifice and humility.
Corpse Bride, a Reel Parable
While there is much that many Christians/Churches may not like about this movie (a non-biblical view of the afterlife, ghosts, hauntings, occult-like images, etc.) there is much about Corpse Bride that is actually very biblical. At its core, Tim Burton's Corpse Bride is indeed a Reel Parable teaching us two very specific biblical truths;
True love is a sacrificial love.
The afterlife is not something to fear but is instead freeing, liberating, and to be enjoyed forever.
While a small part of the film, the end of Act II, where Victor is willing to die for the Corpse Bride, and the end of Act II, where the Corpse Bride is willing to sacrifice for Victor, illustrate that true love is a sacrificial love. As the individual character's storylines collide into the climatic ending we see the Corpse Bride show her true love for Vincent by sacrificing her own interest for him. She loves him so much that she is willing to sacrifice what she wants to give him what he wants. As Jesus said:
Greater love has no one than this, that one lay down his life for his friends. (John 15:13)
True love sacrifices for the object of that love.
A man will sacrifice for the woman he loves.A woman will sacrifice for the man she loves.
A child will sacrifice for the video game he loves.
God will sacrifice for the creation He loves.
Why? Because of true love sacrifices.
While the ending is a good illustration of true love, the entire film is a parable teaching us about death and the afterlife. Tim Burton very carefully visualizes the difference between the world of the living and the world of the dead. The world of the living is dark, dreary drab, and very monochrome in color. There are a lot of blacks and whites with a little gray thrown in for color. : )
The world of the dead, by contrast, is full of color, music, feasting, enjoyment, merriment, etc. In the Corpse Bride death is not something to fear, but is instead something to look forward to!
In the Corpse Bride, we see that death is freeing.
In death, we are free from the trappings and concerns of the world.
In death we are free!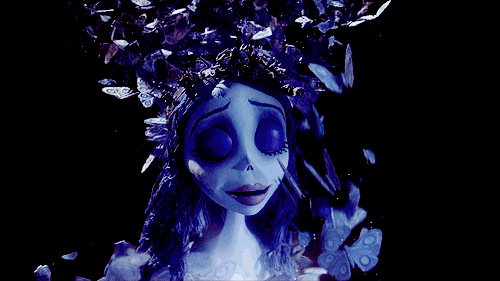 This is illustrated in the Corpse Bride by the use of butterflies. At the beginning of the movie we see Victor drawing a butterfly, then letting it go, and it flying away to freedom. At the end of the movie, after the Corpse Bride has emptied herself of her own ambitions for Victor's sake, we see her turn into hundreds of butterflies, which fly off to the same freedom as our first butterfly.
It can be no accident that Tim Burton used the butterfly, a symbol of rebirth, as a metaphor for true freedom.
Death is not final.
Death is not something to be feared.
Death – like the butterfly illustrates – can be about rebirth.
This is true.
It is not true because Tim Burton says it is true.
It is true because God says it is true.
Regardless of your understanding of the specifics of what the Bible says about the afterlife (whether we spend eternity in Heaven, on a new Earth, etc.) the Bible clearly teaches that death does not have to be feared and that death is not the end. As Paul said to some friends in Corinth;
O DEATH, WHERE IS YOUR VICTORY? O DEATH, WHERE IS YOUR STING? (I Corinthians 15:55)
(FYI, this quote is in all caps because the New Testament writer, Paul, borrowed this saying from the Old Testament, specifically Hosea 13:14.)
Like Tim Burton, Paul tells us that death is not something to fear. Paul even says in a letter to his friends in Philippi that;
For to me, to live is Christ and to die is gain. But if I am to live on in the flesh, this will mean fruitful labor for me; and I do not know which to choose. But I am hard-pressed from both directions, having the desire to depart and be with Christ, for that is very much better. (Philippians 1:21-23)
Do you fear death?
If so there is no need to. Although Tim Burton's Corpse Bride deals with death, it does not deal with redemption. Paul, however, makes it clear that death and redemption are tangled up in the dance of salvation. Salvation is not, and never has been, free. It may be a "free gift" to us, but God paid a great price in Jesus' death. Death need not be feared because Jesus conquered it once and for all through His death and resurrection.
Even so must the Son of Man be lifted up; so that whoever believes will in Him have eternal life. For God so loved the world, that He gave His only begotten Son, that whoever believes in Him shall not perish, but have eternal life. For God did not send the Son into the world to judge the world, but that the world might be saved through Him. He who believes in Him is not judged; (John 3:14b-18a)
Hey, would you please do me a favor? Would you share this with someone you think would enjoy it?
Get my free e-book, How to See God's Story in Movies. This free download will help you share God's story with your kids and students by showing you how to see God's story in movies.
Not only will this guarantee that you get the latest Reel Parables posts, but you will also get my most popular downloads, including "How to Time Travel."
And be sure to check out my About page for more info on what I do around here at Reel Parables.
Until next time, God bless.
Simon