Sharing God's Story with Wreck-it Ralph
This Reel Parable has major spoilers, and I mean major. Major like "did you know Old Yeller dies?" major. This movie bible study assumes that you have seen Wreck-it Ralph or don't care if we spoil it for you. We warned you…
This is part 6 of a 6 part Christian movie review of Wreck-it Ralph. You can find all of our Wreck-it Ralph content here.
Sharing God's story with Wreck-it Ralph
It's no secret that I love Wreck-it Ralph. The way that it shows us what the resurrection looks like is one big reason why! Not only do we get to the a "new heaven and a new earth," but we also get to see a resurrected/glorified body AND our true identity!
Run the Race
Because of Ralph's sacrifice, Vanellope finished the race. She finished the race. That alone is quite biblical!
I have competed well; I have finished the race; I have kept the faith! (2 Timothy 4:7)
Therefore, since we are surrounded by such a great cloud of witnesses, we must get rid of every weight and the sin that clings so closely, and run with endurance the race set out for us… (Hebrews 12:1)
With the help of her "cloud of witnesses," her community, Vanellope was able to run the race and finish the race.
Don't give up the race. And don't give up on your community.
But wait, there's more!
A New Heaven and a New Earth
By finishing the race – by crossing the finish line – the world of Sugar Rush is reset. The corrupt and counterfeit world, ruled by the counterfeit king, was made new!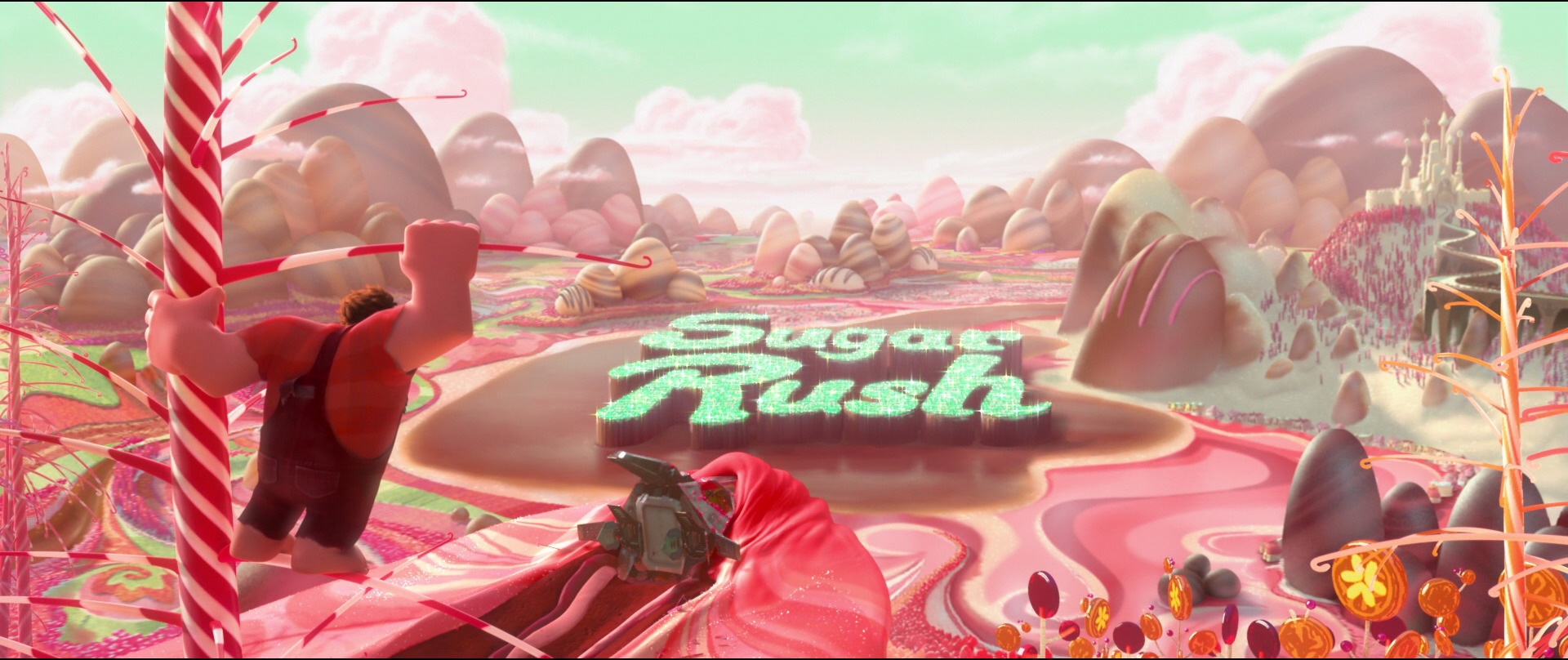 Sugar Rush was made right. The old went away. The new came.
The corrupted (hacked by King Candy) world of Sugar Rush was made new and restored back to its original creation!
The fallen world of Sugar Rush was made new and restored back to its original creation!
Then I saw a new heaven and a new earth… (Revelations 21:1a)
For look, I am ready to create new heavens and a new earth! The former ones will not be remembered; no one will think about them anymore. (Isaiah 65:17)
While waiting for and hastening the coming of the day of God? Because of this day, the heavens will be burned up and dissolve, and the celestial bodies will melt away in a blaze! But, according to his promise, we are waiting for new heavens and a new earth, in which righteousness truly resides. (2 Peter 3:12-13)
We know our "end" is not really the end, but a new beginning. Someday this painful, hurtful, vengeful world will be made new, just like Sugar Rush!
Someday this ugly world will be made beautiful!
But wait, there is *still* more!
Princess Vanellope Not only was Sugar Rush made new, but so was Vanellope!
The once glitchy "mistake," the perishable little girl could not leave the game because she would die, was raised imperishable!
It is the same with the resurrection of the dead. What is sown is perishable, what is raised is imperishable. (I Corinthians 15:42)
So then, if anyone is in Christ, he is a new creation; what is old has passed away – look, what is new has come! (II Corinthians 5:17)
Don't miss the story here.
Ralph offers himself as a sacrifice to save not just Vanellope, but all of Sugar Rush.
Because of his sacrifice Vanellope able to finish the race and cross the finish line!
The game – the world of Sugar Rush – is made new and restored to its perfect and original creation.
Vanellope, too, is made new and raised up in her new and perfected body!
But wait, there is still even more!
Not only is Vanellope made new, but her *true* identify is revealed.
Vanellope, this glitchy nobody, is actually Princess Vanellope. Yeah, Princess. So, yeah, she is the daughter of the one true king!
The same is true for Christians!
But when the appropriate time had come, God sent out his Son, born of a woman, born under the law, to redeem those who were under the law, so that we may be adopted as sons with full rights. And because you are sons, God sent the Spirit of his Son into our hearts, who calls "Abba! Father!" So you are no longer a slave but a son, and if you are a son, then you are also an heir through God. (Galatians 4:4-7)
For all who are led by the Spirit of God are the sons of God. For you did not receive the spirit of slavery leading again to fear, but you received the Spirit of adoption, by whom we cry, "Abba, Father." The Spirit himself bears witness to our spirit that we are God's children. And if children, then heirs (namely, heirs of God and also fellow heirs with Christ). (Romans 8:14-17a)
Yes, as Christians we are sons and daughters of the one true King! We are fellow heirs with Jesus Christ himself!
This should be so encouraging to you. Just like Vanellope we all have our own "glitches." We are all fallen and broken in some way.
for all have sinned and fall short of the glory of God. (Romans 3″23)
But just like Vanellope we too can be royalty. She was saved by Ralph's sacrifice, we are saved by Jesus' sacrifice!
We, too, can be made new. When we believe in Jesus we join God's family.
They replied, "Believe in the Lord Jesus and you will be saved…" (Acts 16:31a)
I assume that if you are reading this then you do believe. If not, then today is the day!
Prince-and-Princess-Crown-Cut-Outs (Right click and save)
Here is a great way to share God's story with your kid(s). Make and decorate a Prince and/or Princess crown! Be sure to write Prince/Princess and your name and your kid's name. And wear them proudly!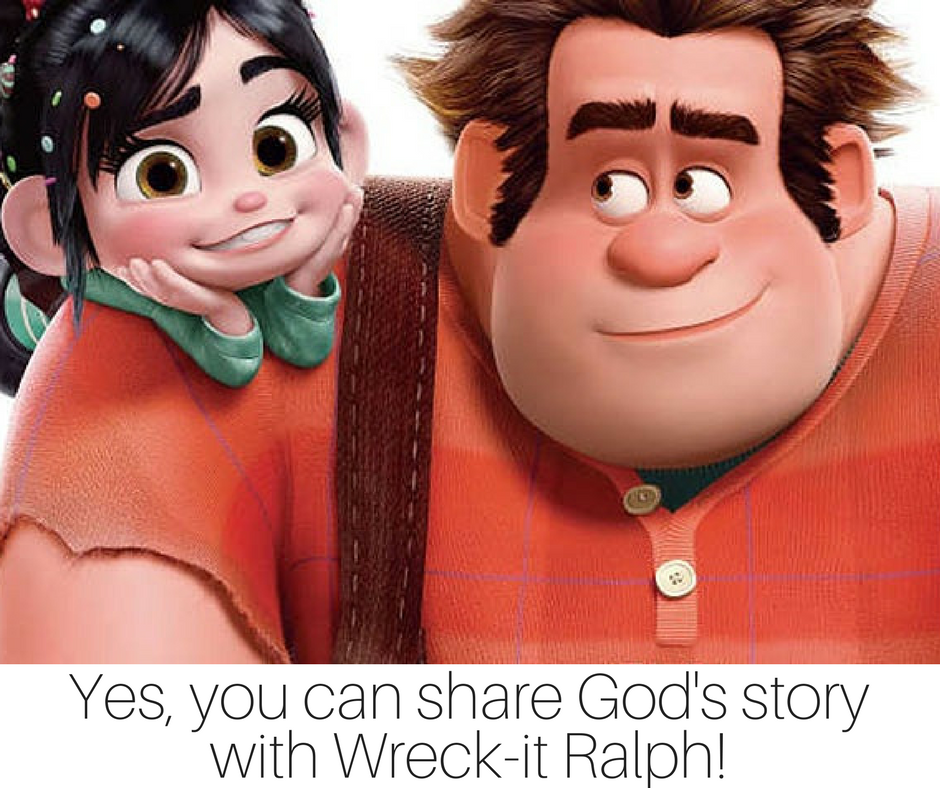 Get my free e-book, How to See God's Story in Movies. This free download will help you share God's story with your kids and students by showing you how to see God's story in movies.
Not only will this guarantee that you get the latest Reel Parables posts, but you will also get my most popular downloads, including "How to Time Travel."
And be sure to check out my About page for more info on what I do around here at Reel Parables.
Until next time, God bless.
Simon L Smith
Sharing God's Story with Wreck-it Ralph